Here are some of the items provided by the Friends in 2021
You can support the Friends by making a donation by clicking here
As the covid situation has eased, from March 22nd we have been advised by the hospital to once again stop the twice weekly donations to the Staff Hub and revert to our more normal funding activities.
Activity Boxes
The Friends of the PRUH funded 22 Activity Boxes and CD Players for patients at the Princess Royal University Hospital. These boxes were allocated to each inpatient ward and contain a number of activities for patients to enjoy, including Sudoku, cross words, playing cards and games such as Draughts and Dominoes.
Click here to see the hospital communication about these boxes: Activity Boxes 2021
Fabric and Photo Montage Wall Hangings
.
The wall hangings resulting from the virtual fundraising events launched by the Friends during lockdown.
Free Staff Raffle
From March 22nd we have been advised by the hospital to once again stop the twice weekly snack food and fruit delivery to the Staff Hub. We are very grateful to the following Rotary Clubs for supporting us with this work, Chislehurst, West Wickham, Ravensbourne, Bromley and Orpington.
The remaining funds were used on a variety of small gifts used to hold a free staff raffle. Free tickets were given out to staff and the draw was held on Maundy Thursday. The raffle was a great success.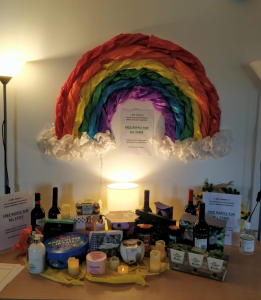 Stroke Unit = Refurbished Waiting Room
The Friends have refurbished a small waiting room in the Stroke Unit for use by relatives. The Friends were able to do this with funding from the Co-op Local Community Fund. The Friends are very grateful for this donation.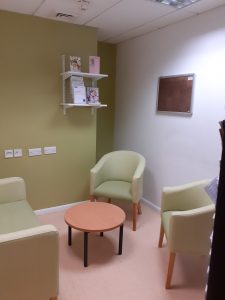 Twice weekly Snack Food 
Twice weekly deliveries of snack food and a tray of fruit have continued to be delivered into the staff hub during the 1st Quarter of the year, to support staff working over the pandemic.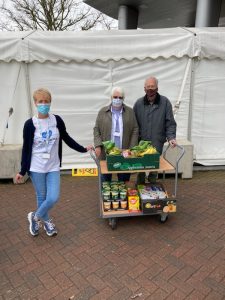 Hand Cream 
Further 50 tubes of Avon hand cream have been provided by Jayne Calvert and paid for with a further £40 collected by her from Mother's Union, friends and family, supplemented by funds from the Friends detailed for Covid related expenditure.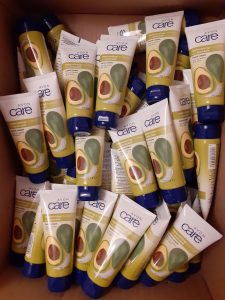 Fruit and Snack Food
A large tray of fruit and snack food delivered to the staff hub on Tuesday 2nd and Friday 5th February.
.
We were aware that Jayne Calvert was organising a collection amongst her family, friends, customers and members of Mothers Union to help towards the £667.50 cost of the large order of Avon Creams. She was being helped by Val Richardson who was also collecting from friends and Orpington Trefoil Guild. However, Wednesday Jayne arrived with an amazing collection of £865 for which we are very grateful. We immediately agreed to spend the surplus on a further 50 face and hand creams and 33 lip balm and these were all delivered to the Staff Well-being Hub on Friday.
.
Money donated by four Rotary Clubs, West Wickham, Chislehurst, Ravensbourne and Orpington Crofton is being used in rotation for the week's fruit and snack food shopping.
Fruit, Snack Food and Body Lotion
A large tray of fresh fruit and snack food to the Staff Hub on Tuesday 26th and Friday 29th  January.
.
Jayne Calvert kindly donated 10 Avon body lotions to be given to patients, these went into the hospital on Friday.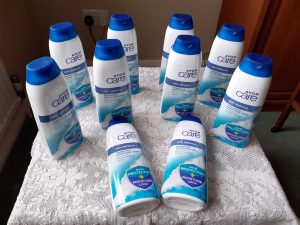 .
We are very grateful for the large individual personal donations we have received this week along with a large donation from The Rotary Club of Orpington Crofton and The Rotary Club of West Wickham.
.
Fruit and Snack Foods
A large tray of fresh fruit and snack foods to the Staff Hub on both 19th and 22nd January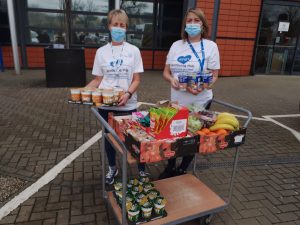 .
Fruit, Snack Food and Creams
A large tray of fruit and snack food to the Staff Hub on both 12th and 15th January.
.
Avon Face Cream sourced by Jayne Calvert, one of our helpers, went into the Intensive Care Unit, and the Respiratory High Dependency Unit on Thursday 14th January.
A further large amount of Avon face cream, hand cream and lip balm was accepted by Debbie Hutchinson, Site Director of Nursing for distribution amongst the Wards on Saturday 16th January.  Shower Gel, Body lotion, shaving foam and razors were also provided for patients who are not able to receive essential items from their families.
A further bag of hand cream donated by Beryl from Ravensbourne Rotary Club was delivered as well.
.
The Friends are very grateful to both Chislehust and Ravensbourne Rotary Club who have donated large cheques to help us in providing the fresh fruit and snacks for the staff hub.
We are also very grateful for the other donations that we have received since Christmas.
.
The staff are very appreciative of all they receive.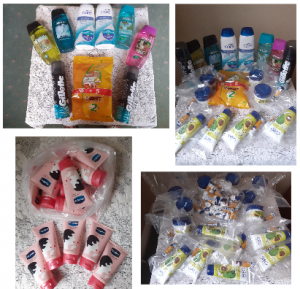 .
Fruit and Snack Food
A large tray of fruit to Accident and Emergency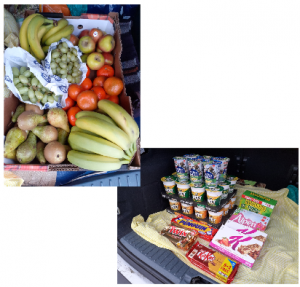 .
Fruit and Snack Food
A large tray of fresh fruit went into the Staff Hub and Accident and Emergency on the22nd and 24th December respectively.
.
The fruit on the 24th was kindly paid for by a complete stranger in the queue behind our Chair who was purchasing the fruit from Tony at Porters Produce, Greengrocers, Crescent Way, Orpington. The stranger started talking to our chair about the hospital. 
As our Chair left, Tony and the gentleman were coming to an arrangement over the bill. Thank you so much to you both.
.
Activity Trolleys for Dementia Patients
The first Activity Trolleys along with Bush CD Players were delivered to the Hospital on Friday 8th January and were accepted by  Dementia  Specialist Nurse Vicky Mahoney. 
The pictures shows the trolleys and the contents of each trolley, which include a game of draughts, dominoes, packs of cards, Aqua painting , stencils , paint box, crayons, felt tip pens, pencils, biros and singalong CD. Numerous work sheets, puzzles, wordsearch, crosswords and resources have been prepared in addition by the Dementia Specialist Nurses Rebecca Clayton-Higgins and Vicky Mahoney.