Here are some of the items provided by the Friends in 2022
You can support the Friends by making a donation by clicking here
Christmas gifts
The Friends donated £3,585 as a Christmas gift, to the various wards at the PRUH and Green Parks. This approximates to £5 per bed:
Paediatric Day Surgery £50
.
Bench seating for the Enhanced Recovery After Surgery (ERAS) team
The Friends were happy to fund 2 sets of bench seating of 3 seats each, requested by the Clinical Nurse Specialist in the ERAS team. The seating is for use by patients who are undergoing enhanced recovery therapy after surgery. They are installed on level 2, north corridor.
Chairs for the Chaplaincy
The Friends donated a set of chairs for use in the Chapel run by the Chaplaincy at the PRUH.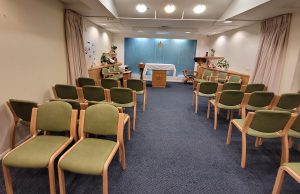 Baby's Memorial Service
The Friends are happy to fund the Baby Memorial Service organised by The Chaplaincy at the PRUH. The service was held on Sunday 9th October at the Holy Innocents RC church in Orpington. The service was attended by 36 parents and families including grandparents, supporters and 3 little ones, 7 members of the church's Bereavement team, 7 Chaplaincy staff and 7 Midwives.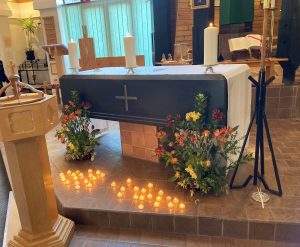 Dementia friendly refurbishment of Medical 1 and 2 wards
The hospital authorities recently refurbished Medical 1 and 2 wards to make them more friendly to patients suffering from dementia. The changes include use of bold and contrasting colours; use of non slip flooring; and artwork. All to reduce confusion and distress in patients. The hospital spent a considerable sum on these improvements. The Friends were happy to make a sizable contribution of £15,000 per ward towards this.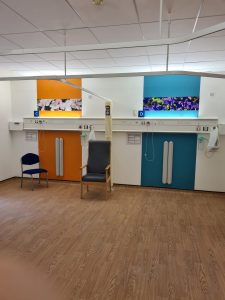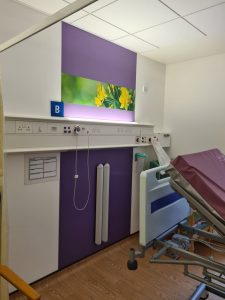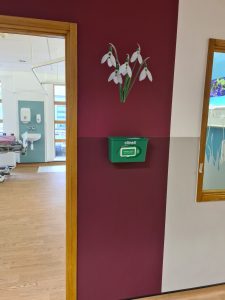 World of Books
The Friends were pleased to be successful in their application to receive books as part of the World Book Night 2022 Giveaway.  The scheme was aimed at organisations such as libraries, prisons, schools, hospitals, and homeless shelters etc. to distribute books and inspire people to enjoy reading.  The Friends received 160 books which have been distributed to patients around the hospital.