Events in 2020
Christmas wreath in place over the holiday season
.
This lovely Christmas wreath and plaque donated by The Friends to the hospital has now been taken down. It took pride of place at the entrance hall to the hospital during the holiday season  to wish staff, patients and visitors a Happy Christmas. The wreath was approximately 3 feet in diameter and the plaque is 2 feet square. 
Funding from the Co-op Local Community Fund
.
The Friends are delighted to have won funding from the Co-op Local Community fund. In these difficult times when our normal fundraising events have been suspended, this is wonderful news. The funds are earmarked for equipping a room as an activity room in the Stroke Unit and also refurbishing a small waiting room for use by relatives.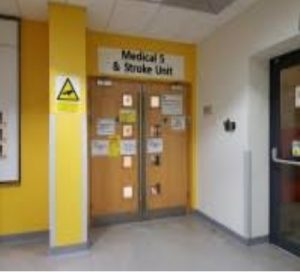 Fun Virtual Quiz. The fun virtual quiz held on Friday 27th November raised an amazing £1122! Most of the donations included gift aid, which is not included in the total. The quiz was in aid of covid related projects within the hospital. We should like to thank our Quiz Master Mick Wood for running this fun quiz. The winner was Diane Stiff who received the hamper that was donated to us by Dean Wilson, Independent Family Funeral Directors, after the August Cake and Tombola Sale they held.
Cake and  Tombola Event. On Saturday 22 nd August Dean Wilson, Funeral Directors at Locksbottom, arranged a very successful Cake and Tombola event outside their premises from 10 am until 3 pm in aid of our Charity. They all worked extremely hard with a very large range of Tombola Prizes and a delicious array of cakes. The event was attended by the Deputy Mayor, Councillor Stephen Wells, in the morning. They raised the magnificent sum of £627 which is a very welcome boost to our funds. We would especially like to thank the Manager of the Branch, Donna Tossel, for first thinking of our Charity and then enlisting the help of the Wilson Family and their employees for what was a very happy, friendly and safe event in the local community.
A surprise large donation. We were recently contacted by Ashley Hewett- Brown, the Chairperson of the Hayes Christmas Lights Committee, to say that The Friends of the Princess Royal University Hospital  were  the  recipients of their Charity collection for the 2019 Christmas Lights Appeal. This was the first that we knew about it and they were checking as to whether we had received the money which was donated through PayPal. We are pleased to say that all the money is now in our bank account and amounts to the magnificent sum of £5313.62. We are most grateful to the committee, their family and friends and the residents of Hayes for the support they have given us.
A mini  Tombola was held in the front of the Chairman's house on Sunday 5th July to coincide with the 72nd Anniversary of the NHS. The chocolate had been donated for the cancelled Easter Tombola. This raised a total of £87.06